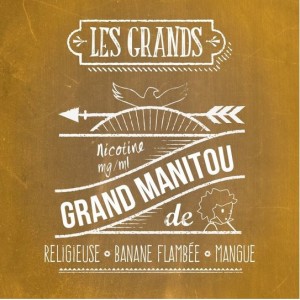 Like flavourlab, the chosen few and tobevaping, VDLV have created an entire line made from all natural ingredients called Les Grands.
A great idea… as certain US manufacturers have recently discovered to their chagrin that more and more vapers are concerned about their health and want absolute clarity when it comes to e liquid ingredients.
So what do they taste like….
Rio Grande:
They say: Orange, red fruits and Menthol.
I say: Almost verging on the horror that is toothpaste with OJ, this e liquid skilfully skirts the danger zone. The end result is something that tastes more like blood oranges with wisps of cooling menthol at the end. Rio grande is a very moreish albeit unusual juice, perfect for vaping during those long hot August afternoons.
Grand Raid:
They say: Red fruits, Lemons and Menthol.
I say: The lemon smoothes out the red fruits and menthol, leaving you with what can only be described as an evening with Gins Addiction´s eccentric French cousin, I also taste something nutty in the mix. This would be more of an enjoyable after dinner vape for me.
Grande Evasion:
They say: Coconut biscuits, Pomengranates and Peaches
I say: I did not like this at first, there seemed to be a plastic note (perhaps the coconut?) on the exhale. After 24 hrs of leaving the bottle open it blossomed into an almost fizzy dark Peach with a slight coconut finish. The Pomengranate serves as a pedestal for the Peach : )
Grand Manitou:
They say: Puff pastry, Banana Flambee and Mangos.
I say: If that famous American philosopher Homer J Simpson vaped, he would have a tank full of this at his side… day and night. A sweet, sticky sensation!
Some very interesting mixes and imagination on display here ladies and gentlemen, I look forward to trying more from Vincent dans les Vapes: http://www.vincentdanslesvapes.fr/62-les-grands-de-vincent
All 3mg/ml e liquids 50VG/50PG enjoyed in a 1.6 ohm Japanese cotton wicked magma on top of a coolfire4 firing between 20 and 25 watts.
Rating: Terre des ours – https://www.youtube.com/watch?v=0aEQD2ja-Ts