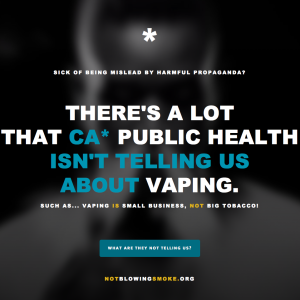 On Sunday night, the California Department of Public health launched an all out attack on vaping, rife with (at best) misinformation. Fortunately, vapers have a response!
To coincide with CADPH's launch, notblowingsmoke.org also launched on Sunday! Make sure to click the post below and give the page a "LIKE"!
This is the place where you can tell people how vaping has changed YOUR life… stay up to date and we can all put up a solid fight against the efforts of The CA Public Health Department!