I've received some new juices recently for the holidays. Let's see if I can't help other people find a juice that suits their tastes.
Today's review: Vapelyfe – Bleu
A photo of the bottle for reference: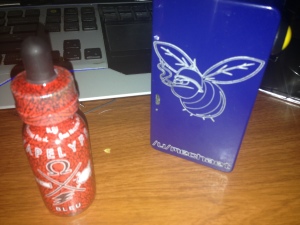 I received this bottle as part of my Craft Vapery subscription, this was the 30mL bottle they sent this month. I'm tasting it using a Tai Ji dripper, running dual 26ga 2.6mm vertical coils at a combined 0.41 ohms. The wicking is Cotton Labo Puffs. Powering the build is DogMods Big Bully 008, a 60W SX350-based boxmod.
Onwards to the important bits:
From the Vapelyfe page on this juice:
Cookies & Cream | Marshmallow
The bottle smell is a pretty rich chocolate cookie, like smelling the inside of an Oreos package. There's a slight creamy scent lingering in there, and some sort of minty undertones. It smells pretty amazing. The taste was pretty accurate: a cookies-n-cream with marshmallow floating through. It definitely sated my sweet tooth, it's a very sweet-tasting vape. The taste doesn't vary between 30W and 60W, which is a pleasant realization. The minty note comes into play on the exhale and really sets off the whole profile, giving it a very well-rounded flavor and not something you would tire of easily. I really did appreciate the accuracy between description and vaping experience, it's not very often I come across a juice that says exactly what it tastes like, and this is one of them. I would (and will, until I run out of the 30mL they gave me) ADV this juice in a heartbeat. The vapor production is stout, very dense vapor with a great linger time. The vapor scent is highly pleasant, like a cookie bakery that is baking a batch of double-chocolate cookies with mint.
I give this juice an overall 9/10.