I had heard quite a bit about this juice company, and liked their flavors that they had but had never tried it until now.
Today's review: TBD Liquid Spongebob
A photo of the bottle for reference: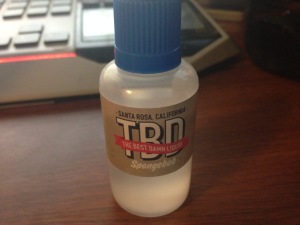 I received this bottle as part of a larger shipment from TBD Liquid. I'm tasting it using a Tai Ji dripper, running dual 26ga bottom-plane coils at a combined 0.29 ohms. The wicking is Cotton Labo Puffs. Powering the build is DogMods Big Bully 008, a 60W SX350-based boxmod.
Let's see if we can get something going here:
From the description of this juice on the TBD Liquid page:
Spongebob is easily our best seller, sometimes I try to play around with the recipe, but every time you guys tell me its perfect how it is. Its one of my first juices I've made, and its just been a hit ever since. Its a great blend of Pineapple & Peach with some additional elements to help smooth it out. Simply delicious All Day Vape.
The raw juice smells a lot like a tangerine, sun-ripened on the tree. Flushes of pineapple and peach are there, but take a back seat to the tangerine's nectary note. Very sweet and fruity scent, with a citric pop at the very top. The inhale is a wealth of pineapple flavor, with an over-ripe orange flavor playing alongside it. The exhale is delectable peach, again with orange but much lighter, and the finish is pineapple sugary goodness. There's a lot to love about this vape, as each inhale/exhale varies slightly enough to keep you engaged in the experience. I can certainly see why they say this is ADV-worthy, because I went right through 5mL of it during this review and wanted more still. The sweetness of the liquid is pretty high but also very brief, as it doesn't linger on the tongue more than a moment or two very unlike the fruit flavors it is meant to mimic. I see this as a plus, because if it did linger you'd be overwhelmed by the sweetness pretty quickly.  The vapor production is very thick, sort of a dense ropey vapor. Lots of vapor tendrils hung in the air during my exhalations, reaching down and dancing off of my desk surface. The scent of the vapor is purely pineapple and peach, with not a lot of orange hanging around in it but since that isn't one of the listed flavors in this juice I can't really say that's a bad thing.
I give this juice an overall 9/10.