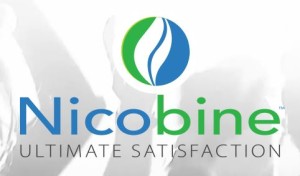 It has come to my attention that a doppelganger named "Brad Kroenig" has been masquerading as Don Gourmand in certain circles. Appearing almost everywhere with an alarming frequency, he can be easily recognised by his strikingly handsome visage and of course his astonishing resemblance to me.
He is so convincing, that he recently managed to fool a good friend and close confidante of mine at a soiree that I had been unable to attend due to my pressing charity work with some poor, starving, homeless, orphaned baby koala bears.
See below for pictorial proof of his shady shenanigans.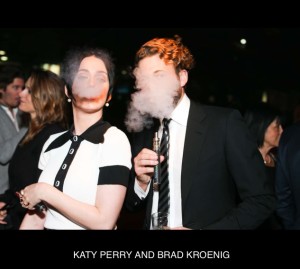 As if this was not bad enough, it turns out that this ridiculously good looking Lagerfeld muse and gourmand impersonator has an e liquid company known as Nicobine. May the flea´s of a thousand camels infest his armpits for all of eternity!
Needless to say at great personal cost I managed to obtain samples and I now intend to slate my evil twin´s … sorry… review this enterprising young gentleman´s juice.
Nicobine is made in a FDA registered organic certified facility in the USA and so does not contain nasty chemicals. They are currently undergoing the process of certifying all their flavours.
Damn you Bradley Aethelberta Kroenig, I was really hoping to encounter some easily dismissable Diketone laden, swamp swill or some Acetoin riddled, PG heavy, throat killing, bathtub blend.
Round one to the waffle haired wunderkind : (
The e liquid is really made from 100% organic VG and added flavourings?
Yes, I know… I know… but I checked, more than once and it´s all true.
How?
Well by using a special homogenisation process and a team of secretive but hard working scientists.
FYI – http://en.wikipedia.org/wiki/Homogenization_%28chemistry%29
So… no PG… all VG and not a midichlorian in sight!
Round two to my intelligent impostor : (
How much nicotine in nicobine?
Yes, yes I see what he did there…
Nicotine levels range from 18mg to 0mg/ml, so as much as you need, or as little as you like…
You could lament and bemoan the absence of 24mg and above, but I have a feeling that Brad and the team are thinking ahead here and anticipating restrictive legislation, presently.
Damn his eyes, round three on possible technicalities to the male model : (
Let us start with the Classic…
Classic what now?
Flavour… it´s a dry tobacco with hints of Virginia and some Turkish providing just the right rasp, but to me it has a hint of Black tobacco and perhaps some Chocolatey notes, this would make a good transitional flavour when ditching the smokes or just to have a dry tobacco in your rotation.
Caution: Drink plenty of water with this one, it´s dry… dryer than a drought in the desert.
Next up we have something a little more interesting, a Hazelnut Roast with notes of Coffee, Vanilla and Coconut. I could only taste the Hazelnut initially and then Coconut on the exhale, it is strangely similar to vamp vape from T- juice.
Menthol tobacco – a perennial favourite, featuring sinus clearing satisfaction with that classic tobacco base note, sadly to my utter disgust… it works.
Icy menthol Very similar to the menthol, personally (and it´s a minor quibble), I would have preferred more ice.
Breakfast blend – Light, playful, almost perfumed, citrus fruits, over a slightly creamy cereal base, not something I would normally vape, but again I am forced to admit it´s perfectly vapeable.
Citrus – It has a lovely mixed light citrus top (Orange, Tangerine and Lime) and a base note from the classic flavour. Less classic base notes and more citrus here… please.
There is a very different feeling to these juices, not only in the packaging, their website or the difference in presentation when compared to other more established… brands.
As much as many others wish to slate them and their younger, better looking version of Don Gourmand, I feel that we are witnessing a new approach to the giving up smoking / starting to vape demographic, based on how they perceive legislation will affect vaping in the near future?
"Simply the best e liquid available" is boldly printed on their labels and after sampling their initial offering, I look forward to trying the new, more complex flavours that they plan to roll out this summer.
Nicobine´s approach to the market is quite unique and it still remains to be seen, if they can earn their tag line of "Ultimate Satisfaction."
See http://www.nicobine.com for more information and the next time you see Brad Kroenig… tell him Don Gourmand would like a quiet word.
All liquids vaped at 6mg/ml (except 0mg/ml Citrus) in a 1.7ohm rayon wicked magma firing between 17 and 27v on a cana.