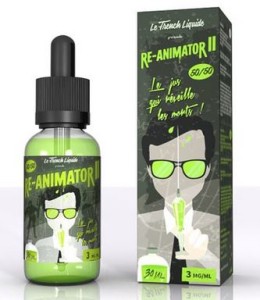 The mad scientists of Venin Divin and Loony Pixie fame have just released another new e juice, called Re – animator II. For those of you who may have missed the first iteration in this series I have included the original flavour review below.
Re-animator:
They say: A fluorescent yellow mix of tangy lemon and lime with a touch of ripe melon.
I say: lemon and lime on the inhale with a lovely long melon finish on the exhale. Great throat hit but I have yet to try it under a black light to see if it really glows? NB the glow is a result of thiamine or one of the other complex b vitamins.
Re – animator II:
They say: a four citrus selection, including green orange, tonic and sparkling notes brought by quinquina (chinchona / quinine) peel. Finally a fresh and French touch specially developed by our mad scientists without menthol and koolada.
I say: There may well be 4 citrus varietals hidden inside this juice but the overwhelming flavour is orange with a hint of pith, not as sweet as Drops orange experience but delicious all the same. The quinine serves to dampen down the fructose while that mysterious "French touch" adds a cooling sensation on the exhale. This is a definite summer vape for me as it feels altogether refreshing rather than cloying on the palate. A slightly bitter orange rather than a mouthful of warm Fanta easily makes this an ADV for me.
Once again its lurid fluorescent green colour is due to high levels of complex B vitamins.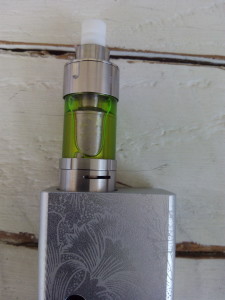 Le French liquide continue to surprise and delight, to find out just how, please click the link: http://www.lefrenchliquide.com/e-liquides-d-exception/re-animator-2.html
All 3mg/ml liquids (50VG/50PG) enjoyed in a fibre freaks wicked lemo2 at 1.2 ohms on a cana firing between 19 and 25 watts.
Rating: Courbet – http://www.gustavecourbet.org/