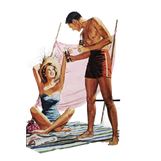 From the same people that brought you Secrets d' Apothicaire comes a line of liquids that reminds us of the simple pleasures in life.
Citron / Lemon
Eerily similar to Rips lemongrass and Lime, think Schweppes bitter lemon in your dripper.
Fraise des Bois / Woodland Strawberries
Strawberry, more candy than fruit but good all the same.
Vader Jador / I adore Vader
For Sithlords and Ladies… a raisiny tobacco with a vague hint of cognac and a lovely raspy finish.
Blond Classique / Classic blonde
Mild tobacco with a vanilla aftertaste
Menthe Marocaine / Moroccan Mint
Good clean spearmint.
Noisette Grillee / Roasted Hazelnuts
Roasted hazelnuts with what tastes like a few stray peanuts in the mix.
Menthe Glaciale / Glacial Mint
A Brain freezing mint with a metric tonne of menthol.
All 7mg/ml juices 70VG/30PG enjoyed in a rayon wicked magma firing at 1.6ohms on a cana between 20 and 25 watts.
Le French liquids are available here www.lefrenchliquide.com
Rating: an earlier Rothko www.markrothko.org