I vape a lot of Labrat Liquids stuff but had managed to stay away from Brown Betty until today…
Today's review: Labrat Liquids Brown Betty
A photo of the bottle for reference: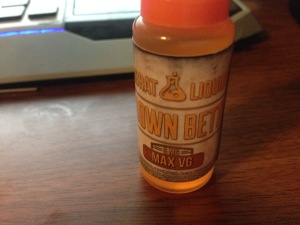 I ordered this bottle when getting my monthly order of Baked Blue and Baked Banana. It occurred to me that I hadn't tried Brown Betty yet so I ordered a 15mL bottle of it. I'm tasting it using a Tai Ji dripper, running dual 26ga bottom-plane coils at a combined 0.37 ohms. The wicking is Cotton Labo Puffs. Powering the build is DogMods Big Bully 008, a 60W SX350-based boxmod.
Onward to the vaping:
From the description of this juice on the Labrat Liquids page:
An exceptionally thick, delectable bready apple dessert with notes of brown sugar & succulent honey.

Designed for use at higher wattages in an RDA, this e-liquid is currently only available as a Max VG blend at 3mg or 6mg nicotine levels.
The unvaporized juice smells a lot like a brown sugar glaze that you would put on a Christmas ham. Very sweet and rich, with a lingering note on cinnamon that is just right. The inhale is a rich caramelized apple, with a taste of cinnamon coming in just underneath. The exhale is brown sugar, cinnamon notes, with a topping of baked apple. The breadiness is pretty subtle but present and doesn't really introduce its own taste to the mixture. Certainly a juice worthy of praise, this one is now going to be competing with Baked Blue/Baked Banana for my monthly order space.  The vapor production is thick and tasty, like a dripper-intended juice would be expected to be (at least, if you've had any juices that were purpose-made for dripping). The scent of the vapor is a rich apple pie, with a fantastic cinnamon/brown sugar dusting on top. Another home-run from Labrat Liquids.
I give this juice an overall 9/10.