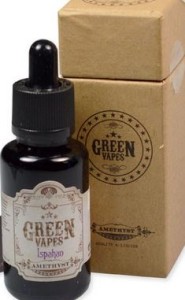 Classique line – Holy Gum:
They say: A strong aroma of chlorophyll and some sugar that will give you the same sensation of pleasure as the first time you tried chewing gum.
I say: Wrigleys double mint (green packet) in your dripper, lovely stuff. Great all day.
Silver line – Orange Soda:
They say: Your favourite orange soda.
I say: Slightly flat Fanta or Orangina with hints of mandarin too, not my normal type of e liquid but it was surprisingly good, particularly during the hot weather : )
NB – This juice is not suitable for plastic tanks.
Classique line – Black Pearl:
They say: pipe tobacco with honey and ginger.
I say: This reminds me of Marlboro rolling tobacco with added honey and ginger rather than a pipe tobacco. Very moreish!
Full vaping line – Gourmandise
They say: Tasty apple crumble
I say: Very smooth at 80VG/20PG, this liquid is a softer apple with more crumble than a packet of digestives in a wonky centrifuge. There is also a faint aftertaste of nuts?
NB – this juice is not suitable for plastic tanks.
Classique line – The peche / Peach tea.
They say: A balancing act between several types of peach for the pleasure of your taste buds.
I say: More peach than tea, a dry peach leads, followed by a subtle tea finish, better than the peaches and cream (Sweet skin). In a word delicious! Please drink plenty of water with this one.
Green vapes are producing some great one and two note flavours here but I would like to try more complex mixes from them. Liquids such as Ispahan from their Amethyst line and Gourmandise from their full vaping line prove that they are capable of more intricate cocktails and imaginative melanges. A balanced approach to mixing their liquids PG/VG ratio's might also widen their audience greatly.
All 6mg/ml liquids 60PG/40VG enjoyed in a Japanese cotton wicked 1.6ohm magma firing at between 18 and 25 watts on a coolfire4.
For more info on these and many, many more flavours check out here for a B&M locator http://www.green-liquides.com or here to browse online http://www.lepetitvapoteur.com/en/67-green-vapes
Rating: Francois Boucher http://www.metmuseum.org/toah/hd/bouc/hd_bouc.htm