I've received some new juices recently for the holidays. Let's see if I can't help other people find a juice that suits their tastes.
Today's review: Coval Vapes Apple Pie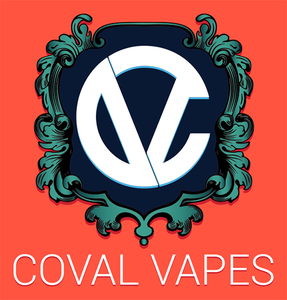 A photo of the bottle for reference: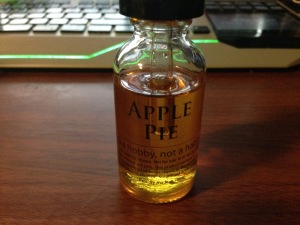 The bottle has a born-on date of 10/01/14
I was the lucky recipient of this bottle via a Secret Santa I was taking part of on one of the forums I frequent. I've read other reviews of Coval Vapes liquids, and was pretty excited when I opened my gift box and found this bottle in there. This bottle is 6mg/mL nicotine, 70/30 VG/PG. I'm tasting it using a Tai Ji dripper, running dual 26ga microcoils at a combined 0.40 ohms. The wicking is Cotton Labo Puffs, which was in a separate order I'd made from Amazon to stock up for the reviews I'll be posting in the coming weeks. Powering the build is DogMods Big Bully 008, a 60W SX350-based boxmod.
You didn't come here to have me spit a thousand words at you, so let's get to it:
From the Coval Vapes page on this juice:
Just like Gramma made it. Tart apple flavor up front while pie crust and cinnamon sugar linger long after the exhale.  This is our new version of the recipe.
The bottle smell is a pretty heavy but bright cinnamon note with a buttery kick and some apple following it up. The complexity of the smell is akin to a good scotch: very nicely refined, mixed but with subtle separations in the notes. Extremely pleasant on the nose if you like cinnamon, it had my mouth watering while I was priming the wick in the dripper. The taste was different enough that I did a double-take and decided to play around with the wattage a bit. The initial taste at 30W is that of an apple cobbler, but as you increase the wattage the buttery pastry flavor comes up more and more until I was sitting here, wishing I had a setting higher than 60W. At 60W it's nearly a different beast altogether. The apple takes a very close back seat to the cinnamon-y, buttery pastry flavor that is a first for me in vaping. Like an apple-laden cinnamon-dusted cronut, this juice pleases every possible sweet tooth you could have. There's a great mixture of flavor in this juice and while I would not call it an apple pie it is nonetheless a very tasty vape. I like this juice quite a bit, it deserves a spin in every vaper's collection. The vapor production is pretty good, not cloud-competition level but certainly won't go unnoticed. The vapor smell is very heavy on the cinnamon like the raw juice is, but the cinnamon is very well mixed with the buttery smell and it has "baked good" written all over it.
I give this juice an overall 8/10.