Continuing through my stash of e-liquids, here are some more words from me about one.
Today's review: Cloud Provisions Caleb
A photo of the bottle for reference: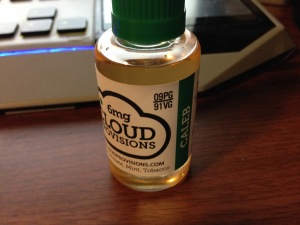 I picked up this juice on a lark when they posted on reddit looking for customer feedback. I ordered the entire line of 4 flavors, and this is the first one I'm reviewing. They aim to put a more mature flavor profile out there for the people who like a more complex flavor profile (one of their juices has pistachios and licorice!) and that sort of thing appeals to the flavor whore in me. I'm tasting it using a FreakShow V2 dripper, running dual 26ga vertical coils at a combined 0.31 ohms. The wicking is Cotton Labo Puffs. Powering the build is DogMods Big Bully 008, a 60W SX350-based boxmod.
Let's take it down to the center stage:
From the description of this juice on the Cloud Provisions page:
Both menthol, and non-menthol fans will enjoy the refreshing, minty coolness of Caleb, a light tobacco vape on a creamy white chocolate base. Easily an all day vape that doesn't get tiring on the palate.
The bottle smell is an Andes chocolate mint but huskier, probably owing to the tobacco flavor. It's a fairly enticing scent, and while not exactly mouth-watering, it does give you something to look forward to. The inhale is chocolate, with a tobacco mingling underneath; barely noticeable, but present. The exhale is minty sweet chocolate and the tobacco presents as a sweetness that is not quite sugary. It's a very good taste, and very unique in the group of juices I've had the pleasure of tasting. This tastes like no other juice I've had, and it is a good one. Don't let the tobacco mention turn you off; I myself don't like tobacco vape juice, but the way it's done here is pretty perfect. The vapor production is pretty heavy, but this is a 91% VG liquid so I was expecting that. The scent of the vapor is chocolate with a touch of mint, and no tobacco scent was picked up.
I give this juice an overall 9/10.