Continuing my line of e-juice reviews, here is another juice I've encountered recently.
Today's review: ANML Vapors Looper
A photo of the bottle for reference: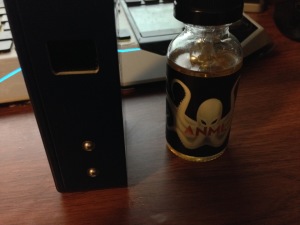 I ran across this juice shopping for a secret santa recipient, at my local Beyond Vapes location. They recommended this liquid pretty heavily but it wasn't until I saw one of the folks behind the counter dripping it that I decided I needed to have some. I'm tasting it using a Tai Ji dripper, running dual 26ga microcoils at a combined 0.33 ohms. The wicking is Cotton Labo Puffs. Powering the build is DogMods Big Bully 008, a 60W SX350-based boxmod.
Right down to brass tacks:
From the description of this juice given to me by the BV staff:
Fruit loops. Do you like fruit loops? You'll like this juice.
The bottle smell is like the freshly-opened box of fruit loops smells if you take a deep sniff of the inside of the box. It's fantastically enticing, and I almost went to get a cup of milk to drink while tasting it (I decided on water instead). While not quite mouth-watering, the scent gives you a lot to look forward to. This juice is fantastic at being fruit loops. The inhale is that semi-chalky, kind of citrus note you get from the yellow loops. The exhale is luxurious cherry, grape, with ample amounts of sweet and cream. The sweet wasn't overbearing, and tasted slightly artificial but not chemical. Very good representation of the full color spectrum of loops, though I wish there was more cream to give it some body. All I needed was saturday morning cartoons, and the aforementioned glass of milk, and I'd be set. The vapor production is good but not great, and at higher wattages gets very dense indeed. The scent of the vapor is exactly fruit loops, leaving a whole lot of nothing to the imagination. Personally, I really enjoy a liquid that smells, tastes, and scents the same way through the whole process. That being said, this juice could get monotonous really quick; I was already getting tired of vaping it after just 8 refills of my Tai Ji, which is almost a new record for a juice I actually enjoyed.
I give this juice an overall 8/10.