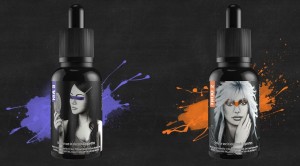 Two newer e liquids from the same people that brought us Suzy 6 and Jack 3, both interesting mixes with some great imagination behind them, for more info about my first 2 sins please click the link: https://thegourmandsguidetogourmet.wordpress.com/2015/09/04/halcyon-haze-13-sins-t-juice-cutts-ice/
Nia 9
They say: A fragrant and inescapably alluring blend of chai spice, mingled with complex notes of wild red berries and vanilla cream. Nia is a subtle, yet sensory enslaving ADV, with facets of blackcurrant and tangy citrus, which leave the satisfying, sweet aftertaste of warmed sugar on the palate.
I say: They just used all the words : (
Its good, very good, related to Gins addiction but in a second cousin once removed kind of way rather than a sibling of / progeny of… that decadent cocktail. I get blackcurrant (red fruits serve to deepen the flavour rather than stand proud) followed by an almost fizzy citrus. All of this fantastic fruit is smoothed out by the subtle blend of chai / tea and vanilla running in the background. Nia 9 is another great addition to the 13 sins line. This and Low Rider by FUU are the best Blackcurrant based liquids since the fall from grace of that controversial kindergarten crack… Ribena!
NB – Drink plenty of water with this one.
Trixi 2
They say: A full on vape sensation, packed full of cool zingy freshness. An electrifying combination of stimulating mint, lemongrass and lime, coupled with the smooth fruitiness of apricot and apple and just a slight lick of aniseed. Trixi is a tantalising temptress of the taste buds.
I say: Enough with the words already…
Cool, zingy and freshness are three very apt words for this vape, minty apple first followed quickly by zippy lemongrass and lime notes, the apricot slips in the background smoothing everything along as the aniseed then sweeps the palate clean and leaves you wanting more. There are hints of a Venus in Vapes / Strepsils aftertaste in a good way : ) Easily an all day for me.
I love both and want to try all of the remaining nine sins. Oh Lord I am weak and have fallen into temptation… you should too: http://www.13-sins.com/shop/
All 6mg/ml liquids 70VG/30PG enjoyed in a cotton bacon wicked 1.6ohm magma firing between 15 and 25 watts on a coolfire4.
Rating: Another great collaboration between Fin Dac and Nigel Q – http://www.13-sins.com/the-story/
Other opinions are available: https://www.reddit.com/r/ecr_eu/comments/3k8iq5/review_13_sins_because_sinning_should_be_fun/
https://www.reddit.com/r/ecr_eu/comments/3k9bpz/visual_review_trixi_2_from_13_sins/